Hacienda222
What an exciting year it has been! As we look back on all the beautiful moments we've witnessed in 2022, while looking forward to 2023, we could not be more grateful or honored by all the happy couples that trust us with their special day!
Before we look back on a few special weddings from 2022, we have some very exciting news to share with you. Hacienda222 and Puerto Rico Destination Weddings Inc. have welcomed a few new members to the team! Meet Bomba, Plena, and Pippy Longstocking, our miniature donkeys. They are just bigger than a large family dog, with all the sweet disposition. See Devi, our Jack Russell terrier mix for scale. Joining them are Romeo & Juliet, the two most beautiful miniature cows you've ever seen (or maybe the only ones you've ever seen?).
We'll have some glamour shots to share with you soon … as well as more information about the role they might play in your wedding ('beer burros' or 'Medalla mules', anyone?), but, for now, we just had to introduce you! We love them already.
Now onto our two-legged friends…
Bria & Lavon's wedding at La Rogativa in San Juan was one of our first weddings of 2022. Our west Puerto Rico-based team are pretty partial to our side of the island, with its beautiful beaches and friendly vibes, but when Bria & Lavon reached out with dreams of a lovely wedding ceremony in old San Juan, we couldn't resist! It was a beautiful way to kick off 2022!
It was an honor to be a part of Carrie & Corey's wedding. This adventurous couple HAD to have a beach wedding, and we were thrilled to be a part of making that happen for them. Click the link above to see their wedding video, in their words:
"This is SO good, thank you so much!"
-Carey & Corey
We love creating weddings for groups of all sizes. Tina & Marcus' custom wedding for them and their eight guests included a delicious farm-to-table meal prepared on-site at Hacienda222 by our private chef, a cello and violin duo, and pristine ocean views. Tina & Marcus shared this about their wedding at Hacienda222:
"Everything went off seamlessly and it was an incredible day! From the hair/makeup, the musicians, the food, the photographer and videographer, as well as the venue and all the staff were fantastic. Our expectations were blown away! A big thank you to you and everyone else involved on making our special day possible."-Tina & Marcus

Matt & Sean's planning process was a bit longer than our average couple due to Covid and other considerations. During that time, they became a part of the PRDW family, and we know they'll be a part of our world for years to come (like their vow renewal in five years)! We'll let them speak for themselves:
"Our Puerto Rico Destination Wedding was everything we dreamed of! We initially thought we'd have a very small ceremony (30 people or less) and a small reception back at our hotel. As we got closer to our wedding date and COVID restrictions started to subside, our guest list doubled! Ashley, Joanna, and team were able to accommodate and made us feel at ease! We were always in constant communication with Ashley and Joanna! Not only were they accommodating but they made you feel like family. Our guests are still telling us months later that our wedding was the most beautiful wedding they had ever been to! And that's saying A LOT!"
-Matt & Sean
One of our favorite things about our job is learning about and honoring our couples' cultural traditions, wherever they might be from and whatever they might hold dear. Jumping the broom is always a fun and meaningful moment for our Black couples. We also love being able to share some of the most beautiful places in Puerto Rico with our couples. Thank you for your kind words, Peterice & Robert!
"I had an unbelievable experience with PR Destination Weddings. On our wedding day, I literally felt like I was in a dream. I watched so many videos before our wedding day and couldn't wait until it was our turn and it exceeded our expectations. When I met Ashley, I felt like I met a celebrity because I had seen her officiate so many weddings in the beautiful videos on their YT channel. Our photographer and videographer were AMAZING. If you are thinking about going with PR Destination Weddings, DO IT!! Literally, the island is beautiful and the PRDW team makes your special day even more beautiful! Whenever we decide to renew our vows WE WILL BE BACK! Thanks team for a once in a lifetime experience!"
-Peterice & Robert
We've married a few celebrities, but perhaps none more special (and fun!) than when this Rock & Roll hall of famer married his long-term partner. Linda & Roger, along with their family and friends, enjoyed a wedding ceremony at Princess Beach followed by a celebration at Hacienda222. As a part of their wedding day festivities, Roger, an original member of the band Heart, and his friends performed some of their favorite music in The Bohio at Hacienda222! What a moment for everyone, from guests to staff. Linda & Roger shared this with us after their wedding day:
"Everything was so beautiful – way beyond expectation! The whole team was very impressive, user-friendly, and good at what you do!"
-Linda & Roger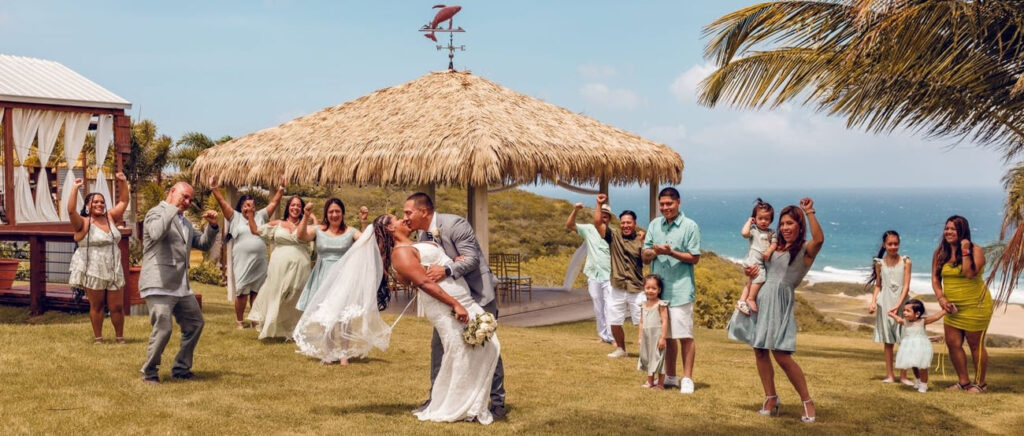 Puerto Rico seemed to hit the news quite a lot this year, mostly around Bad Bunny and Hurricane Fiona! We're always a bit bemused to see the drastic news reports of our island battling hurricanes, as the reality here is usually pretty different. On 17 September, as the outer bands of Hurricane Fiona brought wind and rain to Puerto Rico, Alexa & Luis enjoyed a beautiful wedding ceremony and celebration at Hacienda222. Hacienda222 is fully off the grid, which means that if there are ever any storm-related water or power outages, we are still fully equipped to create a beautiful wedding day for you!
CJ & Chris were our first wedding after Hurricane Fiona, only a couple of days after the storm. CJ & Chris had such a good time that they recorded a video so other couples could hear about their experience!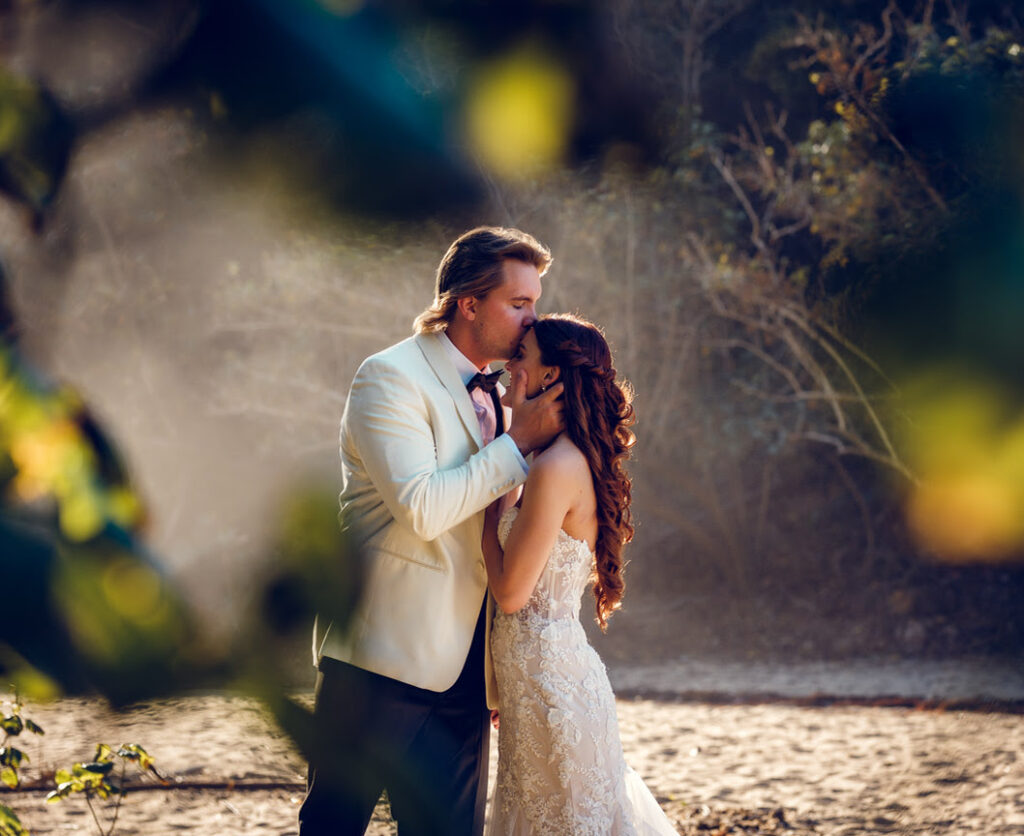 Our most recent, though not final, wedding of 2022, took place earlier this week. Cassie & Caleb came to Puerto Rico from Mississippi to be married on a beautiful beach in front of their beautiful family. And of course, we were happy to help!
We are looking forward to a wonderful 2023, we hope you will be a part of it! Dates are filling up fast, so contact us to see how we can help with your own Puerto Rico destination wedding!
And, most of all, our warmest holiday wishes to you and your family!