Hacienda222
Happy Valentine's Day from Puerto Rico Destination Weddings Inc.!
Love takes many forms at Puerto Rico Destination Weddings. Some celebrate their love with friends and family, enjoying a ceremony and celebration at our beautiful wedding venue, Hacienda222. Others opt for an intimate elopement, just two people committing their lives to each other. Still others want a beautiful wedding ceremony with their loved ones, surrounded by the beauty of a historical city. In today's edition of The Latest, we look at our recent weddings and the way they celebrated their love.
Chastity & Robert's celebration at Hacienda222
Chastity & Robert live on 'the mainland' but have many connections to Puerto Rico. Isabela, the beautiful town where Hacienda222 is located, holds a special place in their hearts as Chastity's mother has a home here. When they got engaged, Chastity & Robert knew exactly where their wedding needed to be. And of course, we were happy to help!
Chastity & Robert are animal lovers and have been closely following the progress of the minis (our three miniature donkeys & two miniature cows). Plena made an appearance at their wedding, and they HAD to have a picture!
Plena wasn't the only one making special appearances. It is whale season at Hacienda222! Our photographer caught the moment Chastity and her friends saw a humpback whale playing in the waters in front of Hacienda222.
Some of the most wonderful things about Hacienda222 are the intangible ones. Like the relaxed vibe created by being at a stunning place where your guests can enjoy a breathtaking view and the fresh ocean breeze.
Chastity & Robert's wedding celebration at Hacienda222 was everything you hope for in a destination wedding. It was a beautiful, relaxed time for them to enjoy with each other and with their loved ones who traveled to be with them on their wedding day.
Katie & Brandon's elopement at Swallows' Pool
Sometimes the perfect wedding is just the two of you. There is a romantic simplicity in leaving all your cares behind and saying I Do in a beautiful, remote place. Katie & Brandon wanted a laid-back wedding and knew the perfect way to do that was to elope in Puerto Rico.
It was just the two of them for the wedding, but of course, Katie & Brandon needed beautiful photos to share with friends and family back home! This photo is an example of our drone photography. Simply stunning!
Katie & Brandon also customized their ceremony with a circle of locally harvested pampas grass, a bouquet & boutonniere, and the Puerto Rican flag for their photos.
Roza & Erik's wedding at San Cristobal
Roza loves to plan! A lover of history and architecture, she knew she wanted her wedding at the forts in Old San Juan from the very beginning. We found the perfect spot for her at Castillo San Cristobal, a beautiful space overlooking the ocean with the walls of a 400-year-old fortress as background.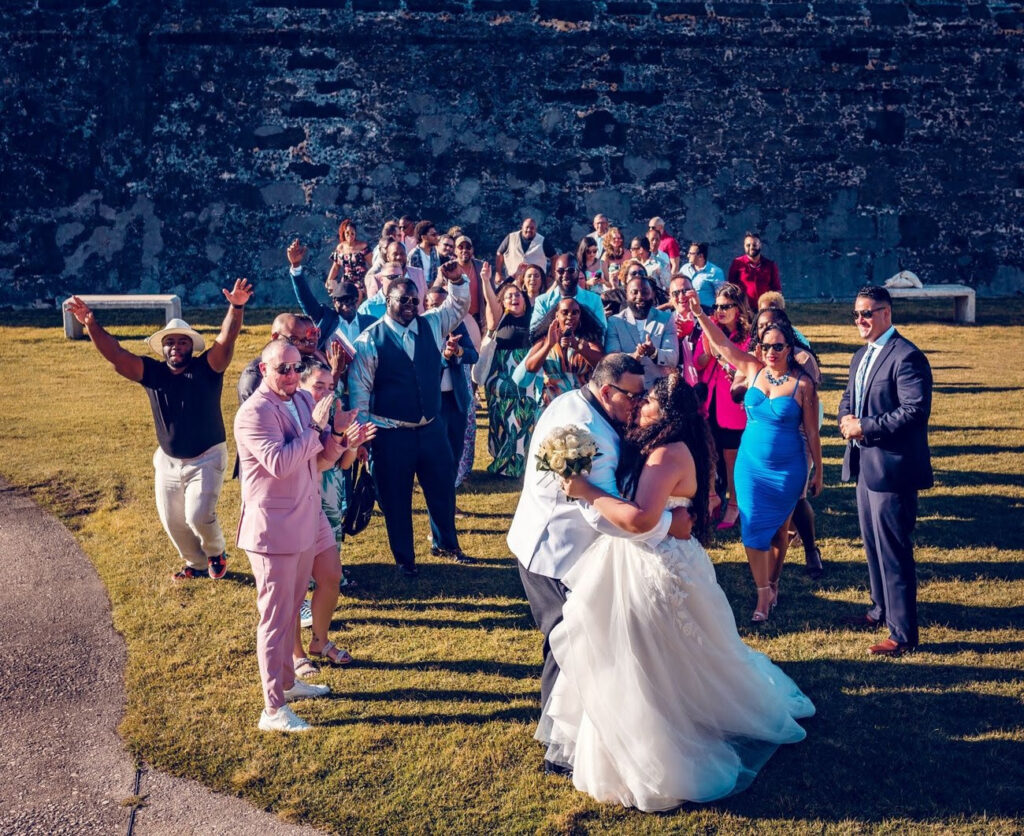 Roza & Erik invited 50 of their closest friends to join them as they were married at San Cristobal. The historic grounds of this national park offer many beautiful spaces for your guests to explore while you sneak off for romantic couples photos!
Roza & Erik celebrate as they walk down the aisle together for the first time as Mr. & Mrs. It was a stunning day for an Old San Juan wedding!
All of our wedding packages include photography, but did you know you can customize your wedding photography by adding drone photos, additional photography time, and even a trash-the-dress photo shoot?
Roza & Erik added several hours of photography to their package so they could capture every part of their wedding experience in Puerto Rico. Including this photo from their first look photo shoot outside their hotel.
Whether your vision of love is a ceremony & celebration at Hacienda222, a simple elopement for just the two of you, or a romantic Old San Juan wedding, we'd love to help make your wedding dreams a reality! Dates are filling up fast for our busy spring season, so contact us to see how we can help with your own Puerto Rico destination wedding!
Happy Valentine's Day to you and your loved ones!