Happy Pride month from PRDW!

Puerto Rico is one of the only places in the Caribbean where destination gay weddings are legally possible. We are proud to be a part of a business and community that is 110% inclusive. So many amazing LGBTQ couples have become part of the Puerto Rico Destination Weddings family over the years. In this month's The Latest, we showcase some of our stunning LGBTQ weddings.
Matt & Sean enjoyed a beautiful wedding ceremony at Guajataca Tunnel. Their wedding ceremony was followed by a celebration for fifty of their loved ones at Hacienda222. It was an amazing party, with a delicious dinner, drinks, and dancing, and they are already planning to return to renew their vows for their fifth-year anniversary. Matt & Sean reached out after their wedding and said:
"Our guests are still telling us months later that our wedding was the most beautiful wedding they had ever been to! And that's saying A LOT!"
Adam & Rahshun's wedding was full of fun and festivity. They even arranged for a doggie wedding ceremony for their sweet pups, Charlotte & Finneas. Aren't they adorable?!
Julia & Luigina said I do on our Old San Juan Safari. When we asked them what getting married means to them, they said:
"We both knew early on in our relationship that we wanted to spend the rest of our lives together. Getting married is another adventure for us."

Micki & Tatiana booked our Barefoot on the Beach package so that they could celebrate their wedding day with their loved ones. Their special day was full of love and laughter. Felicidades to the new brides!
Heather & Robin weren't afraid of a little water on their wedding day, resulting in some stunning wedding photos!
Here's what Katrina & Kelli had to say about their elopement at Guajataca Tunnel in Isabela:
"The team at Puerto Rico Destination weddings were absolutely amazing for our Elopement ceremony at Guajataca Tunnel. Every detail- from the email/call communications with Joanna, Ashley and Christina, Lulu with hair and makeup, Angel and Willy with videography and photography! We are blown away!
The team made the planning process a breeze! Simple, clear communication was provided for what we needed to have the ceremony be a legal ceremony, and we received our marriage license in record time!
Lulu was prompt and efficient with her time! Doing hair and makeup for two brides before 8am is no small feat- and I think she knocked it out of the ballpark.
Willy and Angel provided perfect direction for us to make our photos and video turn out very natural and fun! (If you are debating on getting the video footage- do it, it's worth every penny). We have had so many compliments on our photos and the vibrancy of them!
And Joanna- my gosh, her words during our ceremony were absolutely breathtaking (almost like she's known us for years). She also allowed us to be in the moment and together in such an intimate piece of time. Standing in a field together and it felt like there wasn't anyone around for miles.
We would not have changed a thing about our wedding day. Thank you to the team!"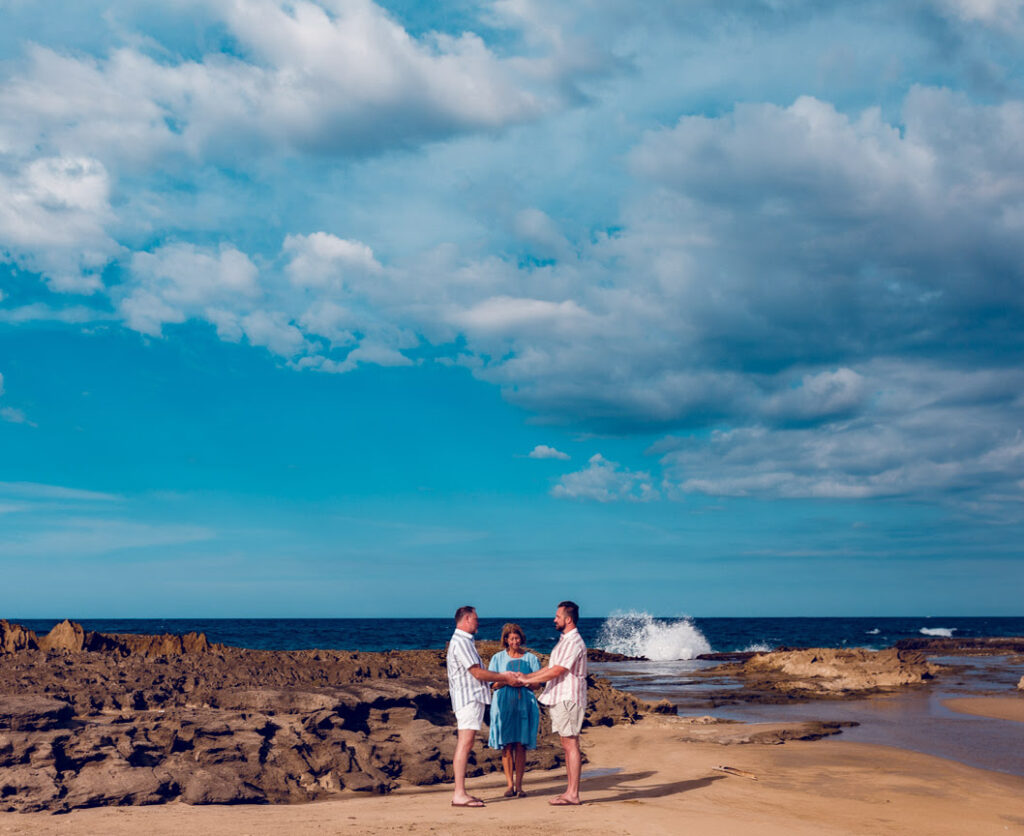 Adam & Stanley both live in South Carolina but met online when Stanley just happened to be in Puerto Rico. This handsome couple knew they had to get married in beautiful Puerto Rico and we were happy to help! Their elopement at Playa Princesa was just perfect.
Finally, we leave you with the morning wedding of Traci & Savannah at Swallows' Pool in Isabela. We are particularly fond of this stunning wedding spot, perfect for intimate elopements. This couple customized their wedding package with drone photography and the results are stunning!
Wishing you a summer full of beautiful adventures!