Hacienda222
Saludos!
We've had quite a week at Puerto Rico Destination Weddings Inc.

Last Friday, our team met at our Hacienda222 to prepare for the wedding of Alexa & Luis on Saturday. There was some rain on the radar foreshadowing Tropical Storm Fiona, and we wanted to be sure that Alexa & Luis and their lovely family would enjoy their delicious farm-to-table meal and wedding celebration safe from any wind and rain. Our beautiful, air-conditioned event space just across the street is in the works to be launched soon, and we knew we could speed things up and make it ready. We called Alexa Friday morning to let her know about our plan. She was relieved, and trusted us completely, and we worked all day to create a stunning venue.
We always say that the universe blesses us with the right couples and the right vibe for the right moment, and that could not have been more true of Alexa & Luis and their lovely family. They embraced the plan B we'd put together, and even the weather cooperated with sun for their (outside) ceremony, followed by rain while they were partying inside. Their day was truly beautiful and they had a great time tearing up the dance floor, with a bride-led conga line setting the bar for future dance parties!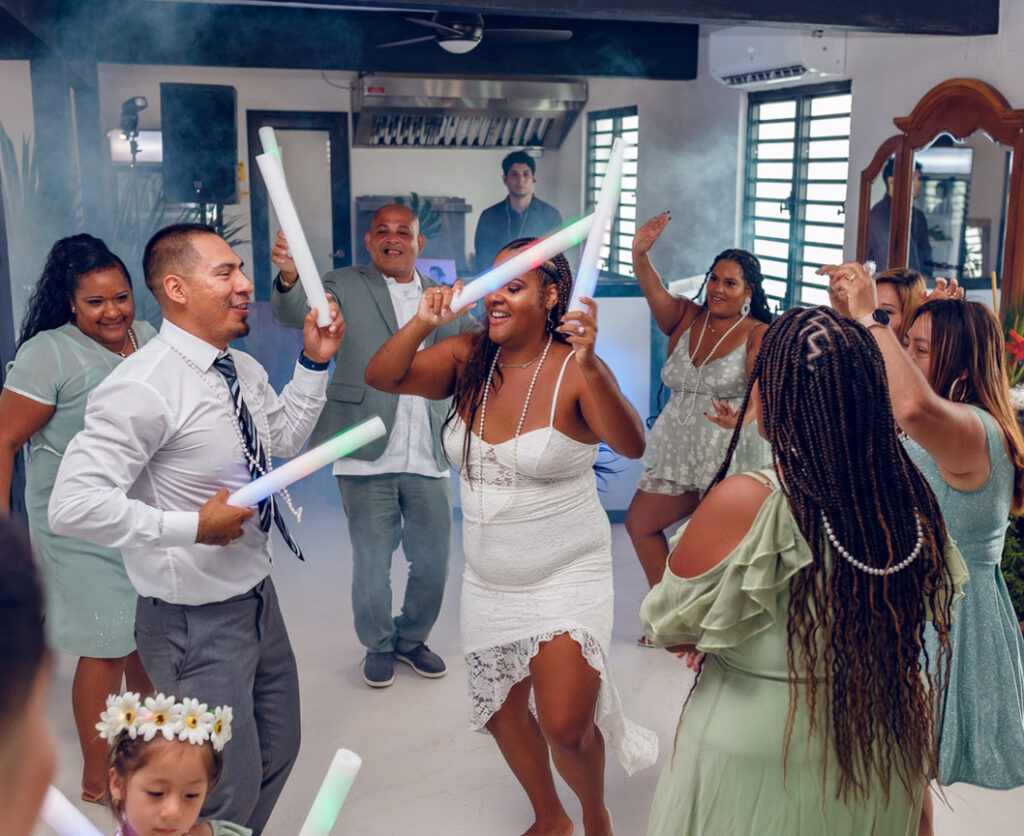 Later that day, Tropical Storm Fiona became Hurricane Fiona, and we all spent much of the next day hunkered down and waiting out the storm. We're all fine and are (again) adjusting to island life without power, but we're hopeful all will be restored very soon. Most tourist businesses, hotels, and restaurants are already up and running, even if on generator power. Life is quickly returning to normal and we are open for business and ready to welcome you.
Yesterday we had our first wedding only 72 hours after the storm, and the intimate elopement was simply gorgeous. Again, C.J. & Chris were the right couple and the right vibe for the right moment, and we all had a great time. We are so grateful for all of you who have checked in on us during this time, and we can't wait to welcome you for your own Puerto Rico destination wedding!
Click above to hear what CJ and Chris had to say about their destination wedding in Puerto Rico, just 72 hours after Hurricane Fiona.
C.J. & Chris were even kind enough to send us some of their personal photos enjoying Puerto Rico (thanks guys!). Like the one above where they are pinky swearing to forever.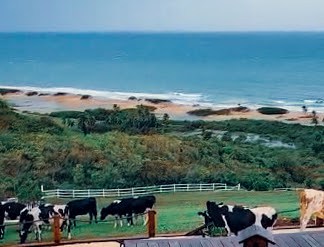 I'll leave you with this. The morning after Fiona, we awoke on Hacienda222 to some broken fencing and a herd of neighborhood free-range cows enjoying the exact spaces where we typically host our wedding couples. Of course the cows wanted their own farm-to-table meal of beautiful green grass! It was only fitting as we have our own herd of cows joining Hacienda222 in December, with extra cuteness as they will all be miniature in size. As we faced the cleanup tasks after nature's power, we were touched to see the future in the present. Don't cows just look beautiful on the Hacienda?! Watch this space. We can't wait to welcome you soon!