We are wrapping up another busy summer season creating happy couples like Damares & Adam (pictured above with their daughter Violet and dog Elio; both are adorable)!

At Puerto Rico Destination Weddings Inc., no wedding is the same. Our couples come to us from many different places and walks of life. Some elope, quietly and intimately, with no guests. For many, it's a second marriage, and they want to include their beautiful families in the festivities. Other couples come to Puerto Rico to renew their vows after years of marriage.

We love all the different stories that bring our couples to the altar. Each is unique and beautiful. In this month's edition of The Latest, we share some of those stories with you.
Sonia & Chris had a beautiful beach wedding ceremony at Playa Princesa followed by a reception at our stunning event space, Hacienda222, less than 10 minutes away. We'll let Sonia & Chris share their experience firsthand:
"From the moment Chris and I first talked about getting married, we knew Puerto Rico had to be the place to bless our marriage. We came across PR Destination Weddings right after we got engaged. We fell in love with this place!! It didn't compare to anything else we found. One email to Joanna, and we booked within weeks. She was so responsive to all my emails (I emailed her ALOT!!) she was great in answering all our questions and concerns. The wedding day was magical, something I can't explain, Ashley was great in guiding everyone to what they need it to do, and also in officiating our wedding. Everything was absolutely perfect from the makeup lady (Jenny) to the photographer, videographer, the cello and violin players to the DJ, and all the employees that kept our guests happy with drinks all night. When they tell you just show up and we will do it all, they mean it. Joanna and Ashley will take care of everything else. We highly recommend PR Destination Weddings, Thank you for creating our dream wedding."

-Sonia & Chris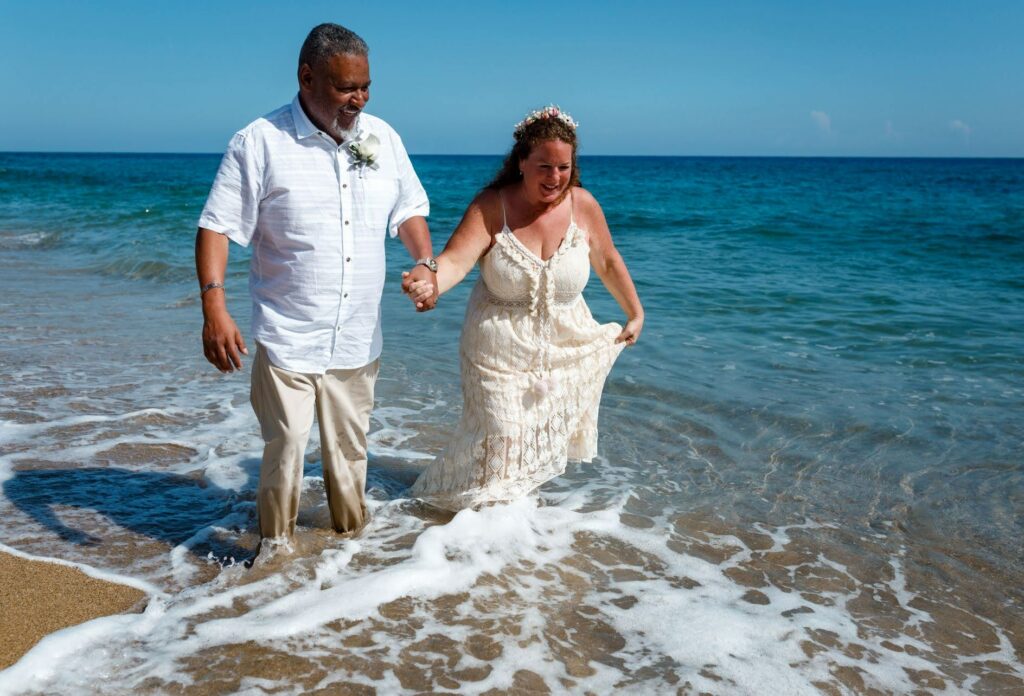 Esther & Eddy have been together 8 years and Eddy has been begging Esther to marry him all along. Esther finally came around and decided to surprise him with an elopement on their vacation to Puerto Rico. I don't know if we've ever seen a happier groom!
Marisol & Alexis have been legally married for more than four years but the timing was never right to have a wedding ceremony. They decided this was the year. We were honored to be able to hold a wedding ceremony and celebration for them and their beautiful family at Hacienda222!
We recently had the privilege to renew the vows of Crystal & Joey on their 5th anniversary. This vow renewal was extra special because Crystal & Joey were married with us five years ago with their children in tow. The photo above is from 19 July 2023, and the photo below is from the same date in 2018! We can't wait to welcome them back in 2028 to celebrate ten years together!
Like many of our couples, Sue & Tim's wedding the first time around wasn't the wedding of their dreams. Ten years later, they contacted us to have the wedding they'd always wanted and celebrate with the beautiful family they've created. Sue & Tim booked our Parcha Package which includes accommodations across the street from Hacienda222 and a private wedding celebration for two (Sue & Tim customized the package to include their children).
I hope your summer has been as wonderful as ours! We look forward to sharing our exciting plans for the rest of the year in upcoming editions of The Latest.