Hacienda222
If you are looking for the best destination wedding venue in Puerto Rico, look no further than Hacienda222, our stunning, one-of-a-kind private cliffside facility.
Located on 1½ acres in stunning Isabela, Hacienda222 offers expansive views overlooking one of the island's truly deserted, untouched beaches. The best way to get a feel for this magical space is to take a look at our wedding videos, click above to get lost in the magic!
What you'll love about Hacienda222
Hacienda222 is unlike any wedding venue you've ever seen. There is so much that makes this place so special we thought we'd share a few of our favorite things.
The View
We regularly see guests and visitors to Hacienda222 get emotional when they walk through our gates. Words can't describe it, though we've heard them all. Breathtaking. Awesome. Amazing. Spectacular. Stunning. Lacey & Caleb perhaps say it best.
"The pictures of Hacienda222 don't even do it justice – it is a breathtaking view. Even our guests were blown away and stated that this was by far the best wedding experience they had ever been a part of."
-Lacey & Caleb
Creative Design
Hacienda222 combines traditional Puerto Rican building styles (like our thatched roof 'bohio') and creative modern structures. Our Tower is a shipping container turned vertical, with a wine cellar, bathrooms, and vantage point with offers breathtaking 360-degree views of the island. You'll also love our shipping container with a beautiful wrapped wooden deck that serves as our bar and lounge area for our guests.
The Animals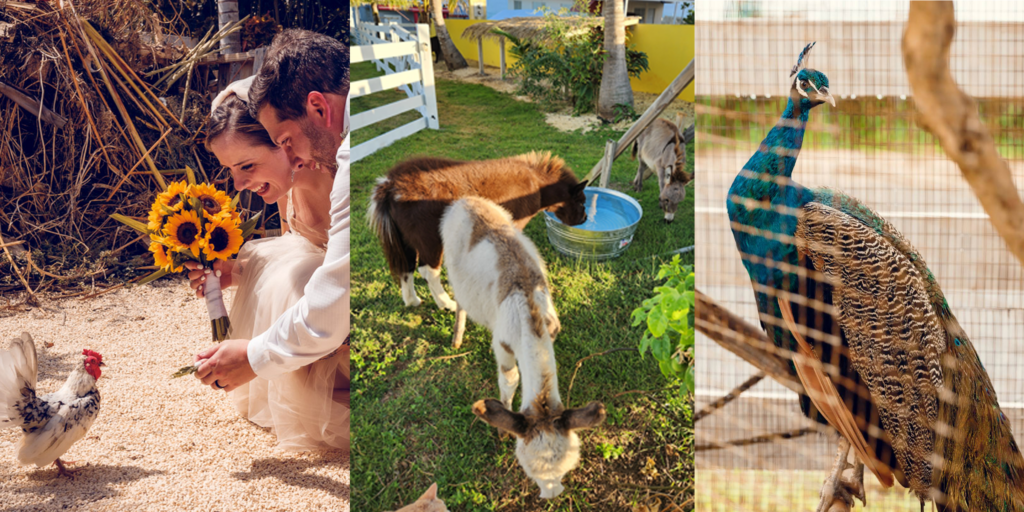 Hacienda222 is for animal lovers! From our stunning peacocks to our teacup chickens to our miniature cows and donkeys, the sweet tribe at Hacienda222 is sure to bring out the kid in everyone!
Farm-to-Table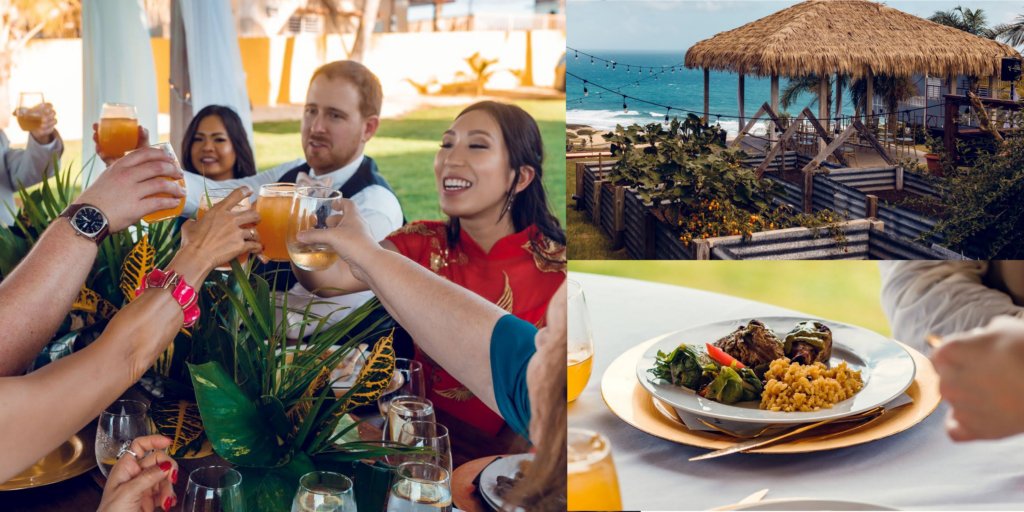 We aim to grow almost everything we serve right here at Hacienda222. From the passionfruit and herbs for our artisanal rum punch to the coconuts for our delicious coconut-ginger crema, ingredients aren't just at the table, they serve as the backdrop for photos and wedding decor. Guests love walking around the space and seeing their yummy ingredients growing right before their eyes.
"It was one of the most incredible meals we've ever had and we will relive the memories together forever. They made the entire day incredibly special. And all we had to do was sit back and enjoy."
-Vanessa & Andres
5-Star Service
Our team has worked together with hundreds of weddings, and we take great pride in inviting our couples to Hacienda222. From your photographer to your officiant to your servers, everyone at Hacienda222 is part of the Puerto Rico Destination Weddings Inc. family. Our couples and their guests enjoy attentive, 5-star service. Just check out our reviews, they speak for themselves!
Off-the-Grid
Hacienda222 is also "off-the-grid", using both solar energy and rainwater collection. Couples need not worry that their wedding is affected by frequent island power or water outages, or a noisy generator powering their celebration. Hacienda222 is both beautiful and sustainable.
"Our Puerto Rico Destination Wedding was everything we dreamed of! Not only were they accommodating but they made you feel like family. Our guests are still telling us months later that our wedding was the most beautiful wedding they had ever been to! And that's saying A LOT!
Thank you to everyone at Hacienda222 for our amazing day!"
-Matt & Sean
We'd love to share the magic of Hacienda222 with you too!