Hacienda222
Before you book your wedding
Check out our website! We have tons of great resources as you prepare both for your wedding as well as your visit to Puerto Rico. We take out the guesswork by publishing all of our services and pricing. And our prices are truly all-inclusive … we don't charge any service fees, resort fees, or gratuities. What you see is what you get! And, as you are doing your wedding research, we are always happy to schedule a call to answer any questions.
How do I save my date?
You can check to see if your date is available on our always up-to-date availability calendar, and sending your deposit is easy and online.
After you book…
When we receive your deposit, your Team Lead will confirm your desired services and send you an invoice detailing your pricing and services. If we haven't gotten to know you before you send your deposit, no problem! We'll reach out so you can share your vision for your day. Once we get all the details ironed out, we'll reserve your wedding date & time, book your wedding day team and send you a booking confirmation.
We can always add services and update your guest count up until your final payment is due thirty days before your wedding. We cannot remove services once they are booked, however, as we book your team members and they turn away any other couples on your wedding day.
How does the planning process work?

The beauty of booking our services is that we take it from there! We'll do all the planning, negotiating, booking your team members, payments, etc.
We'll reach out with questions from time to time, but we mean it when we say all you have to do is show up!
Throughout the planning process, your Team Lead will be available via email or you can schedule a call at any time. We're happy to help!
Six weeks before your wedding
About six weeks before your wedding, we'll send your final wedding details, including your wedding itinerary, details about Hacienda222, driving directions, etc. We'll need a few things from you at this time, like any dietary restrictions for your guests, song requests for your DJ, and your selection for your bouquet and boutonniere.
One month before your wedding
One month before your wedding, we'll confirm and update your final guest count. Your final payment will be due at this time and is payable via credit card or bank transfer on our online payment platform.
Two weeks before your wedding
We'll check in with you again a couple of weeks before your wedding to confirm final details and to make sure you don't have any questions. We like to have things pretty buttoned up at this time so that you can focus on getting ready to travel and enjoying your time in Puerto Rico!
One week before your wedding
If you've booked our limousine transportation or our hair & makeup services, we'll reach out a week before your wedding and introduce you to your chauffeur and/or hair and makeup artist and provide you with a timeline for their services.
Your wedding day!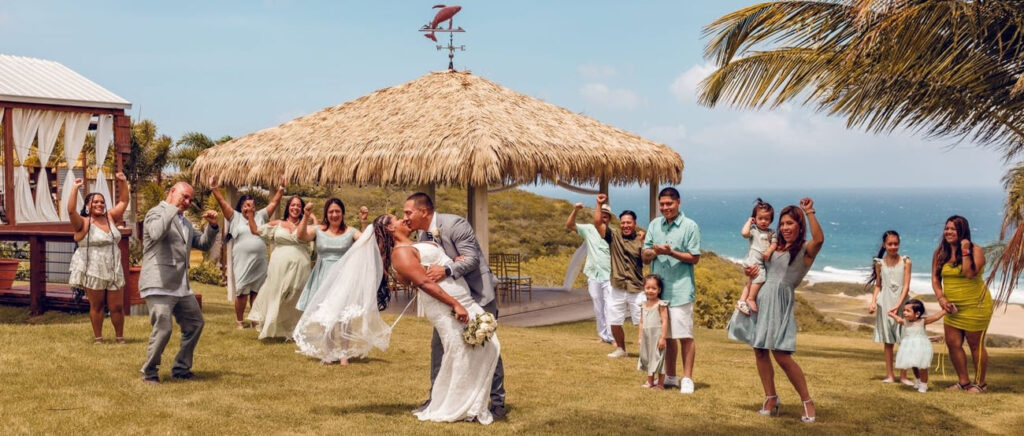 Doorstep hair & makeup
If you've opted for our doorstep hair & makeup service, you're in for a treat! Our hair & makeup artists are experts in creating wedding day looks that are perfect for outdoor beach weddings. They also have extensive experience working with all skin colors and hair types. Most importantly, they are pretty great humans, fun to be around, and we're proud to have them on our team!
Your hair & makeup artist will arrive at your hotel or vacation rental on the day of your wedding, she'll bring her mobile salon with her. As mentioned above, you'll be introduced via email about a week before your wedding so you can discuss any specific inspiration or requirements that you have for your wedding look. At that time, we'll also let you know what time your hair & makeup artist will be arriving. We carefully curate your timeline for the day to ensure plenty of time for a stress-free wedding day.
Your hair & makeup artist has all the equipment to accommodate a range of skin tones, but she's also happy to work with your own foundation or lipstick if you'd prefer. If you have friends or family that would like hair and makeup services, just let us know, we are happy to include them as well!
Limousine Transportation
Similar to our hair & makeup service, we'll plan your wedding day timeline, send you an itinerary, and introduce you to your chauffeur about a week before your wedding. Your chauffeur is a part of the PRDW & Hacienda222 family, not an outside contractor. They will have your contact information and you will have theirs if you should need it on your big day. Your limo will be scheduled to arrive at your hotel or rental early, waiting for when you are ready. Your wedding day is carefully planned and coordinated, and our limousine transportation service is a big part of that, removing any stress about timelines, transportation, or driving in an unfamiliar place. And, it's pretty fun to ride and arrive in style!
After your wedding ceremony, you'll be transported back to your rental or hotel. Additional stops are possible if planned in advance and for an additional fee. Just ask!
What to wear
Hacienda222 is a beautiful outdoor cliffside event space. We are on a hill with lots of grassy areas, decking, and stairs. We recommend that you and your guests wear flat shoes so you can take full advantage of this beautiful space. We also recommend keeping the Caribbean climate in mind when deciding on your wedding day look. You'll want to keep it light and breezy!
Arriving at Hacienda222
Hacienda222 is so named as we are an urban hacienda located at 222 Calle Girasol in Isabela. You can also follow this pin to Hacienda222. Hacienda222 is in a traditional Puerto Rican neighborhood, so don't worry if you think you are headed the wrong way. It's once you step onto the property that the magic happens! The gates at Hacienda222 will open fifteen minutes before your ceremony starts. Hacienda222 is a private facility, which means you and your guests will have the entire space to yourselves.
Parking

There is parking available inside the gates for 7-10 cars. If additional parking is needed, guests can park at our event space across the street, The Colmado. There is parking available in the front and back.
If you or your guests are arriving in large vans or a bus, you'll pull up to the front gates, and our parking attendant will guide your driver from there. There are restrooms at The Colmado if guests arrive before the gates open at Hacienda222.

Photography & videography
As you arrive at Hacienda222, your amazing photographer and videographer (if you've opted for our wedding video), and Team Lead will be ready and waiting. They'll begin capturing the day as soon as the gates open. If you've ever wondered what it would be like to be followed by paparazzi, this is your chance! We believe in a photojournalistic style of photography, documenting the story and all of the moments, big and small, posed and candid, for your wedding day at Hacienda222!
After your wedding ceremony, your photographer will take group photos, family photos and photos of you as a couple.
If you have any special photos in mind, your videographer and photographer are happy to help with that … or if the thought of taking wedding photos is daunting, no worries, our world-class professionals have plenty of ideas!
First look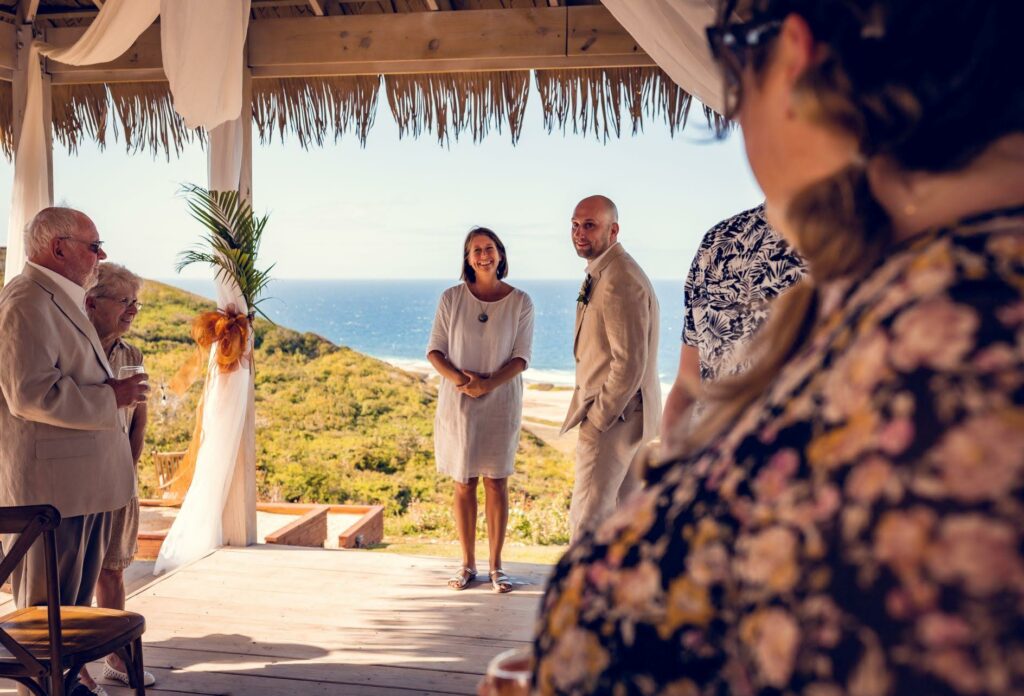 Some couples like to keep with tradition and not see each other on their wedding day. If that is the case for you, we are happy to help! We'll get your partner ready at your wedding altar and have them turn around to face the ocean so they don't catch a glimpse before your ceremony! Our expert photographers will guide you on exactly what to do to capture that special moment.
Wedding Ceremony
Your experienced officiant will use your responses to create a customized ceremony and vows for you (unless you've requested to write your own vows). Your ceremony will last about fifteen minutes.
We love to customize our weddings for all kinds of couples. We perform ceremonies for vow renewals, blended families, same-sex weddings, & opposite-sex weddings. We love integrating cultural elements and traditions from around the world, from 'jumping the broom' to exchanging malas. We're happy to include a favorite reading, or scripture, or not mention religion at all. It is your day and we want your wedding ceremony to reflect who you are.
In addition, because your officiant works closely with your team (our senior officiant and senior photographer have worked together with more than 500 happy couples!), you are in great hands and part of a system that is truly a well-oiled machine. Every wedding, every couple, every day is different, but our experiences working together as a team (indeed, a family) ensure that your day runs beautifully and seamlessly. You can read more about wedding officiants here.
Beverage service
The bar will open as soon as your ceremony ends. We'll serve water, sodas, beer, wine, and our artisanal rum punch, made from passionfruit from Hacienda222 and Puerto Rico's own premium rum, Don Q Cristal. The bar will stay open until your 'that's a wrap time'; 3 hours are included as standard with our packages. We can customize your wedding day or reception with full bar service for an additional fee.
Yard games
Keeping guests entertained is never an issue at Hacienda222 as it's loaded with fun features and beautiful views. Many of our couples opt to add yard games to their celebration package. This fun addition includes cornhole, giant jenga, bocce, and of course, traditional Puerto Rican dominoes. Our guests always have a great time playing games!
Meal service
About 30 minutes after your ceremony and photos, it's time to eat! We'll ask your guests to find a seat and our excellent team of servers will bring your plated meal. We'll ask in advance about dietary restrictions and make sure to take care of your vegan and vegetarian guests. Our servers will be attentive throughout your meal making sure your guests have everything they need! Our surf-and-turf meal is always a hit!
Dance floor!
It is time to dance! We'll talk ahead of time about your music preferences and any song requests you might have. Your DJ will create a custom playlist for your big day using your suggestions, and if you want a first dance or father-daughter dance etc., we'll include those in your itinerary. Our DJ has access to just about any song you can think of, from Latin to American to any and everything that's meaningful for you and your loved ones.
Not dancers? No problem, your DJ will play your favorite background music while your guests enjoy the amazing views and vibes at Hacienda222!
Wedding cake & champagne toast
What's a wedding without cake? A beautiful (and delicious) cupcake tower is included in all of our celebration packages! We'll also offer champagne to all your guests so that you can toast to your new life together!
That's a wrap!
We'll offer a last call at the bar and play your last dance … and the rest is history! Gates close 15 minutes after your wedding's end time.
After your wedding
We'll send you a few social media-sized sneak peek photos via email within 72 hours after your wedding.
You'll receive your full high-resolution digital wedding album within ten days. You can print and use these images as you see fit.
If you've included a wedding video, you'll receive a link for your beautiful wedding video within a month of your wedding.
If you've added our 'let us take care of everything' marriage documentation support package, we'll process your marriage certificate and send it to you via mail within 1-2 months of your wedding date.
You'll officially be a part of the PRDW and Hacienda222 family, and we'll hope to see you back for a vow renewal!
Booking & Availability