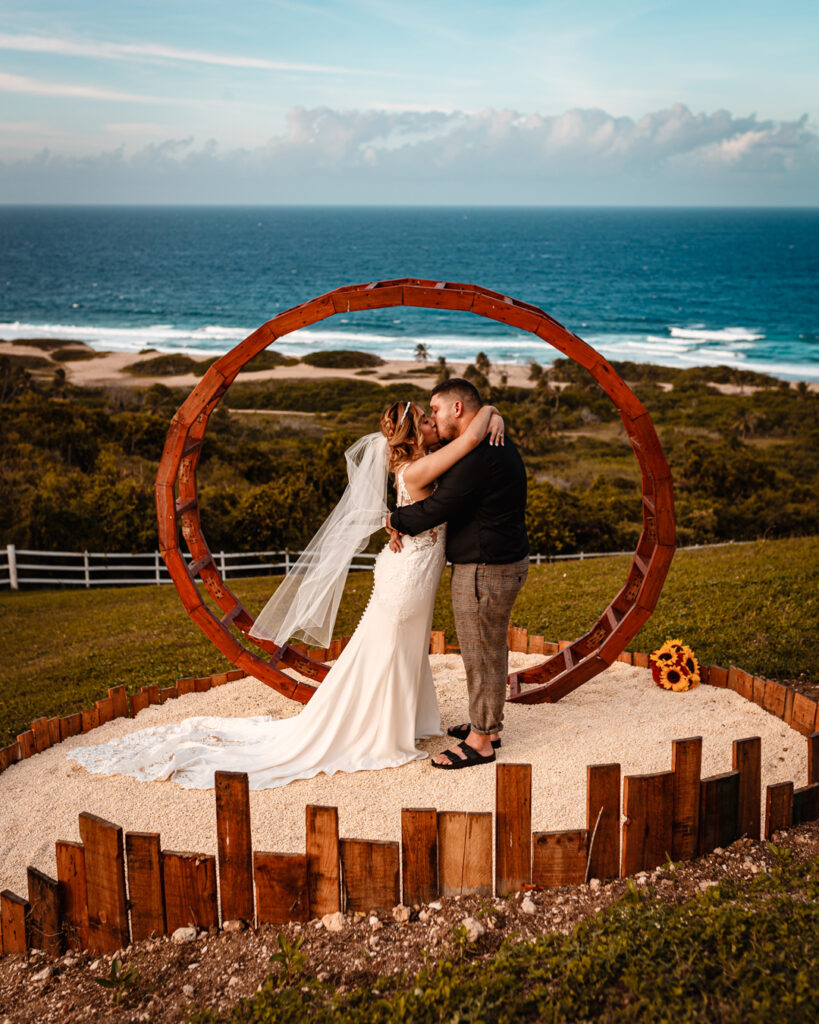 Jennifer and Jose came to us in search of island elopement packages in Puerto Rico. They came to the right place! We are Puerto Rico's leader in destination weddings and elopements featuring the island's natural beauty. We offer ceremony and reception packages designed to make your wedding day stunning, memorable, and effortless. 
Jennifer & Jose chose The Vagón as the setting for their wedding. The Vagón is our newest wedding venue, featuring breathtaking views of truly deserted beaches and many beautiful backdrops for your wedding day photos. We are thrilled to share the newest developments at this stunning venue with you… stay tuned to the blog over the next months as we share more and more happy couples in this space!
Jennifer & Jose's island elopement package included everything they needed to get legally married in Puerto Rico, a process that is easier than ever! They had a lovely, intimate ceremony under The Ring followed by a one-hour photo session, capturing the beauty of their day for their friends and loved ones at home. 
Our resident sato (mixed breed rescue dog in Puerto Rico), Yama, guards Jennifer's beautiful wedding dress. Jennifer & Jose drove the hour or so from San Juan and changed into their wedding wear at The Vagón to surprise each other.The stunning stone ruins of Puerto Hermina. And check out that gorgeous train on Nicole's wedding dress!
A romantic first look for Jennifer & Jose at The Vagón, with loved ones watching from home.
Jennifer & Jose's intimate wedding ceremony under The Ring arbor.
Jennifer & Jose enjoyed a one-hour photo session, taking in the gorgeous views at The Vagón.
Felicidades to the happy couple!
If you'd like more information about our island elopement packages, or any other service, please fill out our contact form. We would love to help!
Photos:AJR Photo Studio
Check out some of our recent blog posts:
Maday & Jimmy's Wedding Ceremony in Puerto Rico
Zorymar & Tiffany's Micro Wedding in Puerto Rico